The Parish Council (PC) has received feedback that some of you would like more information about the proposed project. Unfortunately, with the lockdown restrictions, we have been unable to hold any public meetings, so hopefully this will give you all the information you need. I'm afraid this is a bit of a long read, but necessary to provide the information people are seeking. Additional info is available on request.

What is a PUMP TRACK?
A pump track is an increasingly popular way to encourage kids to exercise, whilst developing balancing and bike handling skills in a safe environment, away from traffic. It can be used by any type of bicycle, skateboards, scooters, roller blades, even wheelchairs. In fact it provides a great exercise workout for the whole family. The photo below is a track of similar size to the one that is proposed for Bolton, built by our preferred contractor.
Well-engineered pump tracks have unique features that allow kids and adults of all skill levels to enjoy them at the same time, without fear of injury. A feature that a 5-year-old can roll through can be used as a gap jump for more advanced riders. All riding surfaces and edges are low to the ground, so riders are not at risk of falling from a high point.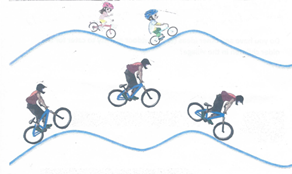 Rounded edges, gentle embankments and perfect geometry guarantee a safe ride. This video of a pump track (a much bigger one) shows how kids of various ages and skills can ride safely together. https://tinyurl.com/y29rgm3l

Background to the Bolton Project
In 2017, a group of parents "the Bolton Bunch" decided that the playground needed a major facelift. After community consultations, and supported by the Parish Council and Hall Committee, they raised enough funds for the new playpark that was opened in 2019.
The group was so successful at raising funds that there was money left over. After further consultation, the Bunch suggested that the funds be used to support the other option that had been considered in 2017, a pump track. Apart from being a healthy family activity, this will also cater for older children in the parish, a group currently underprovided for.
In January 2020, the Bunch held an open day to explore the degree of support for a pump track, and distributed questionnaires asking whether people supported the idea, and if not, what other suggestions they had. Of 65 responses, 56 were in favour of the Pump Track, and 9 against. The main objections/concerns are listed below, with responses.
Other suggested options were explored, e.g. ground level trampolines, outdoor exercise equipment, bouldering/climbing wall, tennis court. These were ruled out on grounds of ongoing maintenance costs, safety issues or lack of wide support. More details of the pros/cons considerations can be supplied if necessary.
Quite a few people requested a covered seating area, which had been suggested before – this is included in the project, but will be for general use also- see last page.
The PC was asked to support the project and seek additional funds to build a track of high quality. Before committing to the project, the PC submitted a pre-application planning enquiry to EDC to find out if it would be positively regarded: the response was yes, as long as it is small scale and incorporates landscape softening. We then conducted thorough research into pump tracks: the cost, maintenance requirements, experiences elsewhere of usage, impact and problems encountered, safety profile, insurance etc. A biking enthusiast volunteer visited a selection of pump tracks in England and Scotland to assess the design and surfacing of various models.
The Primary School is very enthusiastic about the project as it will supplement their Bikeability and PE programmes and provide opportunities for after school and inter-school activities. Croft House supports the project, as at least one of their residents will enjoy it. Other supporters are the Eden Valley Sports Partnership, Active Cumbria, and our very own MP.


OBJECTIONS AND CONCERNS
As is to be expected, we have received a number of objections or concerns. These are listed here, along with responses. If you have others questions or concerns please let us know (clerkboltonpc@gmail.com).

Carbon footprint of tarmac, too urban: The track is of limited length, and will be designed to set into the landscape. It will be well screened from the road and adjacent houses. The contractors were specifically asked to take the Cumbria Nature Recovery programme into account in the design, so the carbon footprint will be offset by wild flower meadow planting in and around the track. The whole site will be enclosed by fencing (to keep out dogs), alongside thornless native hedging to extend the current corridor and attract wildlife. This will need trimming once a year and the future users of the track have agreed to do this. The tarmac has a high recycled content and is extremely hard wearing.
Safety: pump tracks are very safe, with few accidents reported. These are usually the result of not wearing a helmet. Helmets are essential and anyone seen not wearing one will have to leave the track.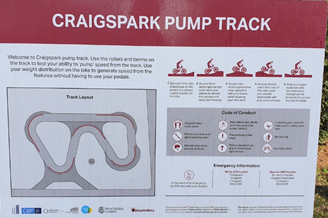 The track will be built to RoSPA (Royal Society for the Prevention of Accidents) and British Cycling standards and inspected before handover. One way signage arrows on the track are included, and a code of conduct is displayed. There will be a specific entry & leaving point. This signage is an example of what will be erected. Recently we have had numerous reports of children randomly riding bikes and scooters without helmets on the main road, even in the dark. This is far more dangerous than a pump track (and far less fun). Check out the video mentioned above to see how pump track works in practice.

Insurance: the PC will take responsibility for insurance and annual RoSPA safety inspections. The user group will hold events to raise funds to help cover the extra cost (about £300).
Maintenance: the tarmac is very high specification (checked with Cumbria Highways) with minimal maintenance requirements.
Drainage is included in the contract: a detailed drainage plan will be drawn up after the site survey. The run off will be attenuated into plastic attenuation crates wrapped in a silt proof geotextile and covered with clean drainage stone, thereafter running to the existing drainage pipe though the field
It will encourage antisocial behaviour: Experience elsewhere is that antisocial behaviour is very uncommon. Older children tend to take the younger ones under their wing and teach them. In urban areas, crime and antisocial behaviour often fall dramatically.
It will attract people from outside the village: The track will certainly attract people from outside the village. But is this a bad thing? Are we not a welcoming village? Should we not share facilities? Will it not help people make new friends. One unexpected benefit of the play park was increased use of the pub – who can object to that?
Car parking problems will get worse: Plans are well underway to build a carpark on the ground next to the Hall as the first phase of the hall development. Planning permission has been granted and fundraising will commence soon. This is likely to be completed by the end of this year.
Too noisy: There will not be the annoying noise that people associate with the older skateboard parks. The tarmac is a "low noise" surface and the hedge screening will muffle noise. Obviously there will be the noise of people enjoying themselves, but is that not spirit lifting?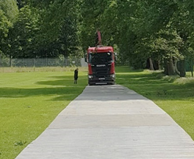 Damage to the field by large trucks accessing the site. Our chosen contractors place wide aluminium tracking across the access path to limit any damage to the rest of the field.

Everything is for the kids, nothing for the adults
The PC responds to requests from the community. The play park and pump track projects have been driven by members of the community, not the PC. Apart from quiet seating areas and a new cooker for the Hall, the PC has not been asked to support projects for older people. A petanque court has been proposed for many years, it just needs a group of people to champion it and take it forward. The PC is always happy to support feasible requests.
We know some would like Bolton to be a quiet, retirement village, but that is neither sustainable nor desirable. If Bolton is to be a vibrant, sustainable community, we must attract families with children to live here to keep the primary school, nursery, church and pub going. Given the lack of public transport, good recreational facilities are a big attraction.
Once lockdown is over, we will call a meeting of people who are interested in being involved in a Sports and Leisure Development Plan for Bolton. This will give us a chance to identify gaps in facilities for all ages and attract funding. Hopefully this group will have representation from all members of the community and all age groups. Keep an eye out in the Newsletters and volunteer!


BOLTON PUMP TRACK
In addition to the leftover play park funds, the Hall Committee has been awarded grants of £5,000 from Cumbria County Council and an impressive £23,000 from British Cycling (thanks to Peter Griffiths for persevering with this most daunting of applications – he has also landed himself with 5 years of reporting commitments!) In November, the PC issued a fixed price (£45,000), two phase Design and Build tender, following government contracting regulations. The design phase is critical as pump tracks do not come off the shelf – they have to be individually designed to suit the location and respond to user needs.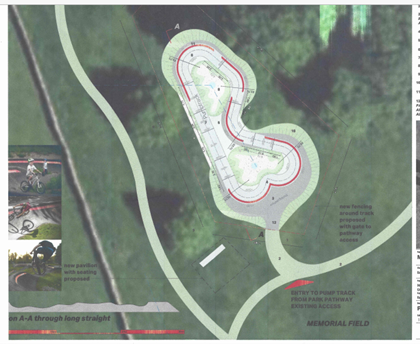 Three well regarded companies recognised by British Cycling submitted tenders. A formal objective evaluation was conducted and the contract was awarded to Velosolutions, one of the world leaders in the field. Copies of the tender documents, submissions, composition of the evaluation team and evaluation matrix can be supplied on request.
The track will be sited at the far end of the recreation field to the right of the oak avenue and public footpath.
This is an initial suggested layout, but is subject to detailed design after site survey and local consultations etc. We are aiming for a completion date of mid-June but this may be overly optimistic given Covid regulations and EDC's depleted capacity to respond to planning applications.
The Gazebo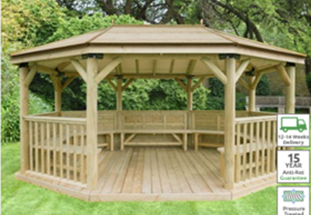 We intend to include a large gazebo with seating, something like this (5 x 3.6m seats 22 adults). It will be sited to allow access not only to track users (via a gate at the back) but also to general users of the field. It can also be used for field days, concerts, classrooms, picnics etc. The open front should help deter clandestine gatherings….. This one has a wooden floor and is guaranteed for 15 years, but we are open to alternative suggestions.





I hope this explains the project. The PC is always ready to answer any further questions you may have.